Biomedical Materials Group - Scope of Research
1. Nanostructured surfaces of biomaterials
The extracellular matrix (ECM) is a main component of all tissues and consists of soluble factors, proteoglycans, nano-scaled protein fibers and controls through its mechanical properties and type and distance of ligands vitality, growth and function of cells. The mimicking of spatial arrangement of ligands can be used for targeted control of cell behavior on biomaterials. The Biomedical Materials Group in close collaboration with the Interdisciplinary Center for Material Science at the Institute of Physics of our university focuses on the design of ordered nanostructures by nanosphere lithography (NSL), laser interference lithography (LIL) and electron beam lithography (EBL) and their functionalization via self-assembled monolayers (SAM) and biomolecules on biomaterials to tailor adhesion, growth and differentiation of primary and stem cells.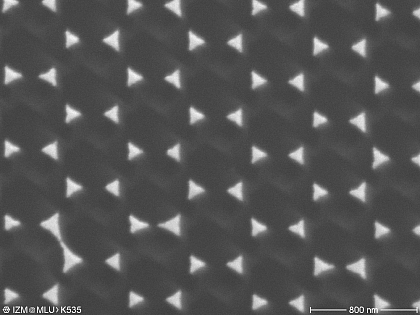 Nanostructured surface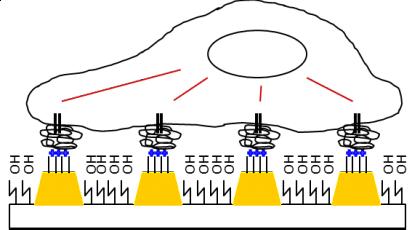 Scheme of interaction of cells with nanostructures
2. Homogeneous and structured biomimetic coatings
Proteoglycans and glycosaminoglycans (GAG) like hyaluronic acid are major components of ECM and cell surfaces, which attract ions and water affecting compression resistance of tissues but bind also specifically major adhesive proteins and cytokines affecting behavior of cells strongly. Therefore GAG and GAG-like polysaccharides (e.g. cellulose sulfates) are interesting candidates for biomimetic and bioactive surface coatings of implants and tissue engineering scaffolds. They can be coupled covalently via imid-, thioether- and other bonds in a homogenous or micro-structured manner (µCP) or via physical interaction forces. The layer-by-layer method exploits electrostatic forces and ion pairing and is used to fabricate nanostructured multilayer coatings, whose wetting properties, surface charge density, mechanical properties and bioactivity can be adjusted by complexation conditions and selection of polyelectrolytes that can tailor behavior of cells.
Polyelectrolyte multilayer made of collagen I and chondroitin sulfate
(Atomic force microscopy)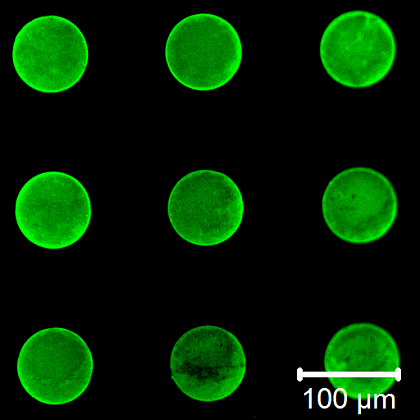 Microstructures of thiolated chondroitin sulfate on a vinyl-terminated SAM
---
---